The difference between electric single beam and electric double beam bridge crane
Views: 9 Author: Site Editor Publish Time: 2019-06-28 Origin: Site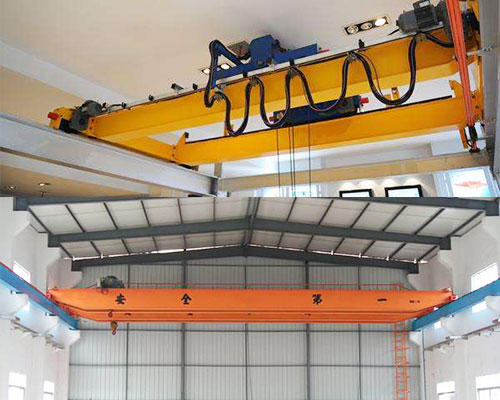 The difference between electric single beam and electric double beam bridge crane
The electric single-girder bridge crane has only one beam, and the electric hoist is directly hung upside down on the track directly under the beam; the electric double-girder bridge crane has two parallel beams, the electric hoist is mounted on the trolley, and the trolley is placed on the track directly above.
The electric single-girder bridge crane is composed of electric hoist, metal structure, cart running mechanism and electric device. It is a kind of light and small lifting equipment. It has electric and manual distinction. Heavy objects are hung on it. It is easy to operate and has many applications. .
Double girder bridge cranes are usually referred to as double girder overhead cranes, which are usually composed of three major parts: machine, electrical and metal structures. The overhead crane is shaped like a single-span slab bridge that is supported by two ends supported on two parallel displacement rails. Double-beam bridge cranes are widely used in indoor and outdoor industrial and mining enterprises, steel and chemical industry, railway transportation, port terminals and logistics turnover.