The arm crane uses maintenance rules
Views: 8 Author: Site Editor Publish Time: 2018-03-23 Origin: Site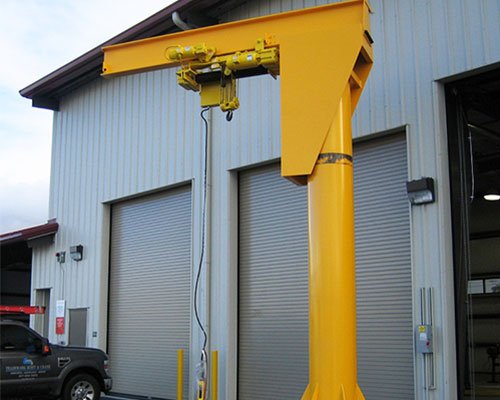 Cantilever crane dynamics is light, crane is by the post, rotating arm of rotation drive and electric hoist project manufacturing, post firmly in the concrete below the root, the cycloidal pinwheel reducer to drive cantilever hanging back, electric hoist to straight lines on the cantilever beams, and lifting the weight of the goods. Crane jib is hollow shape steel layout, self-weight light, span large, heavy weight, economy durable.
The electric hoist installed or installed after the inspection should be carried out for several times. However, before the installation is completed, do not turn on the electricity;
Before normal use, it should be carried out at a rated load of 125%, up to about 100mm from the ground, and 10 minutes of static load test to check whether it is normal;
The test of dynamic load is to test the mechanical transmission part, the electrical part and the connection part.
In the case of use, it is absolutely prohibited to use in an environment that is not allowed, and exceeds the rated load and rated closing times (120 times) per hour;
(5), installation, debugging and maintenance, must strictly check whether the spacing device is flexible and reliable, when the hook rose to the limit position, hook enclosure to the drum shell of distance must be greater than 50 mm (10 t, 16 t, 20 t must be greater than 120 mm). When the lifting hook is lowered to the lower limit position, it shall ensure the safety ring of the wire rope on the drum, and the effective safety ring must be above 2 laps;
In the same time, it is not allowed to press two buttons to push the electric hoist in the opposite direction.
After the completion of the work, the power supply must be switched off and power off.
The operator should fully grasp the safety operation rules and strictly prohibit the slanting and slanting.
It is necessary for the special personnel to inspect the electric hoist regularly and take measures in time and record them carefully.