Structural features and installation steps of Single beam suspension crane
Views: 6 Author: Site Editor Publish Time: 2017-06-30 Origin: Site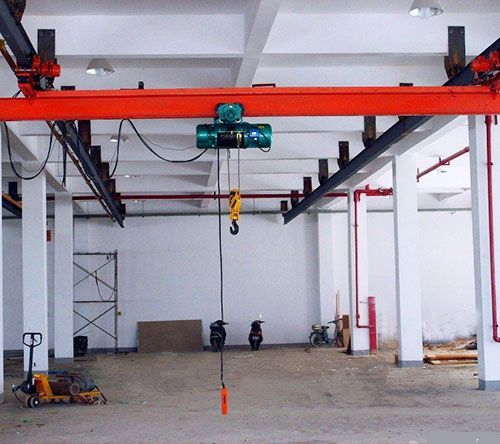 1.Single beam suspension crane is only on a beam, which Can only be run between one direction
2. Structural form of single beam suspension crane: it is composed of lifting mechanism, single girder, endbeam and electronic control system , etc. It is high in height, small in size, light weight and low wheel pressure.
3, advanced design idea, make single-girder crane has light structure and excellent performance, At the same time in the largest extent, reduces the operation of the hook distance limit, effectively improve the space utilization rate, At the same time also allows customers to reduce plant investment cost.
4.Single beam suspension crane from design materials to the manufacturing process of the most advanced technology has been adopted, especially in the frequent homework more show its superiority.Perfect braking system has greatly increased the safety and reliability, high performance of the brake using dustproof design, can automatically adjust, safety service life of more than 1 million times.
5.Operation mode: cable ground operation (IP65, life of 500,000 times), wireless remote control.
The single beam crane has the following installation steps:
1. Determine the type of i-steel
2.According to the I beam model to determine the electric hoist the car size between active and passive theory
3. Loosen the electric car nut, put the car wheel part on i-steel, tighten the bolt
4.Saving electricity, the electric hoist and single-beam crane installed, the electric hoist in the middle of the single-beam crane, and then lifting