Single beam bridge crane
Views: 8 Author: Site Editor Publish Time: 2020-06-24 Origin: Site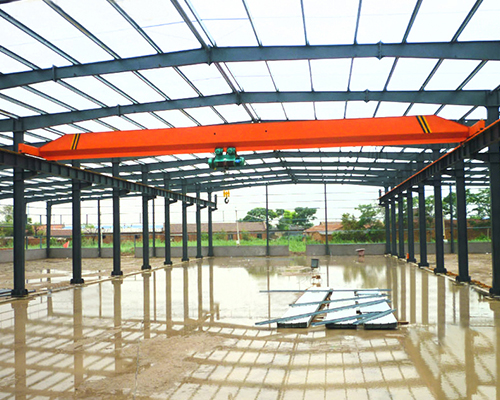 Bridge crane is a kind of lifting equipment which is used to lift materials horizontally over workshop, warehouse and stock yard. Because its two ends are located on tall concrete columns or metal brackets, the shape is like a bridge. The bridge of the bridge crane runs longitudinally along the track laid on the viaduct on both sides, which can make full use of the space under the bridge to lift materials without being hindered by the ground equipment. It is a kind of lifting machine with wide range and large quantity.
LD single beam bridge crane is advanced in technology. It has a box girder optimized by computer as the main beam, which has outstanding geometric design. It has large rigidity, light weight, low load of crane track, and high cost performance. A highly flexible flat cable is used to supply power to the trolley, and the flashlight door with grounding protection function can be connected with the trolley, or can move freely on the main beam alone.
1. Maximum lifting capacity 16t
2. European low headroom design ---- light weight, energy saving and environmental protection, to make full use of the effective space of the plant for customers.
3. Box girder structure - small deformation, compact structure and excellent performance
4. Advanced process guarantee - automatic welding, NDT
Safe and comfortable operation ---- the cart is driven by sew, an international famous brand, and Schneider frequency conversion speed regulation, with fast and stable operation. In addition, according to the needs of customers, it can be equipped with lifting frequency conversion or double hoist operation.