Maintenance after the installation of the bridge girder launcher machine
Views: 19 Author: Site Editor Publish Time: 2019-09-06 Origin: Site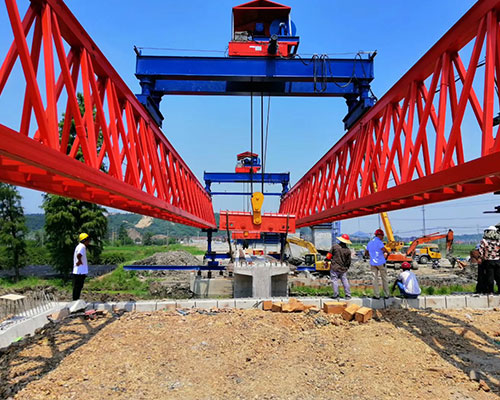 Maintenance after the installation of the bridge girder launcher machine
(1) Always keep electrical equipment clean, such as resistors, control panels, contactors, etc., to remove internal and external dust, dirt, and prevent leakage, breakdown, short circuit and other undesirable occurrences.
(2) Always observe whether the motor rotor slip wire and brush contact are good.
(3) Whether the sound from the bridge motor, electromagnet, relay, electromagnetic switch, etc. is normal.
(4) Check whether the cam controller and contactor have singeing. If it is necessary, replace it with sandpaper or use it with sanding cloth.
(5) When the use conditions are bad, the bridge machine should regularly measure the motor, wire and insulation resistance, pay attention to the cable slip insulation and the grounding of the various shells.
(6) Whether the electrical equipment of the bridge erecting machine is installed firmly, whether it is loose or not, whether the moving parts are flexible or not, so that frequent inspections can be carried out to eliminate undesirable factors.