Girder launching gantry crane 1-600ton
Views: 12 Author: Site Editor Publish Time: 2019-03-29 Origin: Site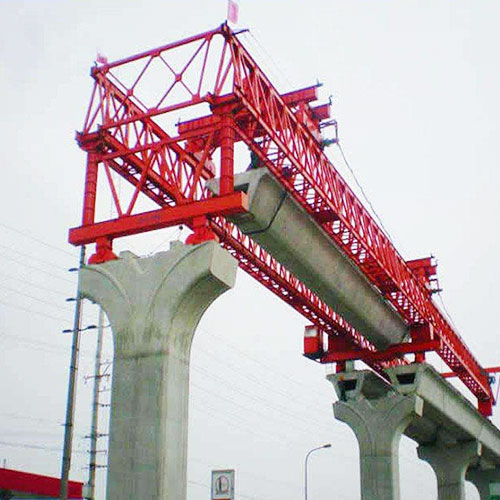 Girder launching gantry crane 1-600ton
The Girder launching gantry crane 1-600ton is a large hoisting machine for building bridges. Its structure consists of main beam, upper beam and front frame, lifting crane, supporting traversing wheel set and rail system, roller mechanism, front hydraulic jacking mechanism and rear drive. The device, the moving beam flat car, the electrical system and other parts are composed, and different parts have different functions.
The function and function of the components of the Girder launching gantry crane 1-600ton:
1. Main beam: The "A" cross section is adopted, and the pin shaft is connected and assembled according to the number.
2. Lifting crane: a total of 2 sets, the lifting mechanism consists of the equipped winch and pulley block and spreader. Lifting the concrete beam completes the vertical and horizontal operation of the concrete beam and controls the installation of the concrete beam in place.
3. Front and rear support traversing wheel set and track system: Adjust the direction of the through hole of the bridge machine by supporting the lateral moving wheel set to meet the requirements of the curved bridge.
4. Roller mechanism: The mechanism for realizing the longitudinal movement of the main beam of the bridge machine.
5. Rear drive device: It acts as both a rear support and a rear drive to drive the bridge machine through hole.
6, transport beam: equipped with 2 transport beam flat cars, driving speed controlled by frequency control, to protect
7. Electrical system: The source of power of each mechanism, through the various corresponding protections, make the main circuit and control loop operate safely.