Daily inspection points for electric hoist contactors
Views: 10 Author: Site Editor Publish Time: 2018-07-20 Origin: Site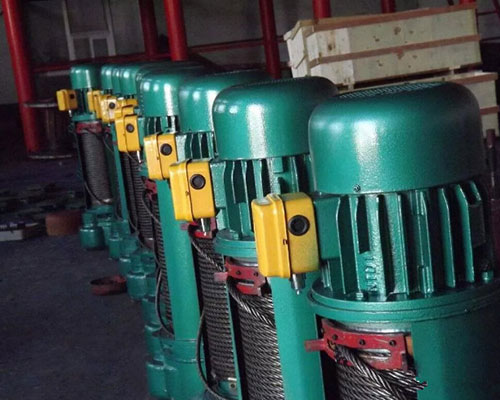 1. The contact area of the magnet of the electric hoist contactor should be greater than 75%. The magnet of the contactor should not be skewed, it should not be blocked, and the magnet surface should be kept clean. At the same time, the short-circuit ring is guaranteed to be intact and the magnet has no fierce noise.
2. The coil has no leakage and is firmly fixed. The heating temperature should be lower than 75 °C.
3. The arc-shielding cover is intact, no card contacts, and the arc-suppression coil is not short-circuited.
4. When the copper drop hole on the contact is flat, the contact is smoothed, the mechanical strength is not enough or the over stroke reaches the specified value, replace the new contact.
5. The contact contact width of the contactor should be greater than 3/4.
6. The contacts should maintain sufficient open and overtravel.
7. The simultaneous contact of the primary contacts, that is, the on-off deviation does not exceed 0.5 mm.
8. The interlocking contact has an overtravel of 2-4mm and a pressure of 1.3-2.5N.
9. The lifting electric hoist contactor is required to be light and flexible, and the bearing needs to be lubricated frequently.
10. The mechanical interlock of the rotary contactor should be properly adjusted. When one contactor contact is in contact, the contact of the other contactor is not closed, and the gap is not less than 3 mm.
11. Keep the wire ends loose and not burnt, the screws are tight, and the insulation parts are kept clean.